Awake at 3:30 this morning with jetlag, I have ample time to blog about a wonderful cruise on Viking's ocean liner, The Star. The journey started in Norway and ended in Stockholm. We traveled with our dear friends from northern California who we'd been on a river cruise with a few years ago. Our husbands were a bit leery of traveling with 900 passengers and 600 crew. For the most part, the typical cruise passenger is older, slower, and plumper than we are. However, there were couples younger than us.

Traveling by cruise ship is not inexpensive, but if you factor in that it includes: hotel, meals, beverages (beer and wine), transportation, and evening entertainment it helps with the "ouch" factor. But by far the number one reason to travel by cruise is to never unpack and repack more than once during your vacation. The number two reason: no time is lost traveling as most cruising is during the evening. And all that food to eat…you eat so much all the waiters know you by name and how you like your gelato served. No need to worry about weight gain, you walk between five and ten miles a day.

A negative about cruising is that if you really like a place, you don't get to stay there very long. We stopped in all the Scandinavian countries as well as Germany, Poland, Estonia and St. Petersburg, Russia. Here are a few highlights via photos. (Click to enlarge)

By far the most scenic place was our first stop, Norway. The fjords of Norway are breathtaking. We could have spent a week here and hope to again in the future.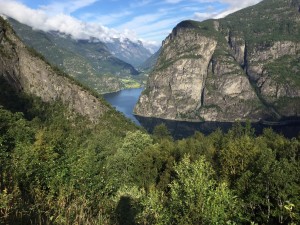 After we left Norway, we cruised to Denmark. My husband and I flew into Copenhagen prior to embarking on the cruise. We arrived in time for a Pride weekend which made the visit lively. Copenhagen is a large city with old and new parts. My favorite place was Nyhavn. Nyhavn is located on one of the many canals.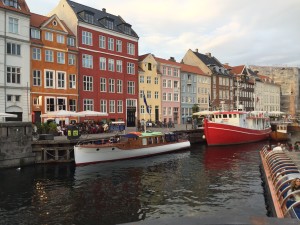 We also found the cemetery where Hans Christian Andersen is buried and also this lovely angel.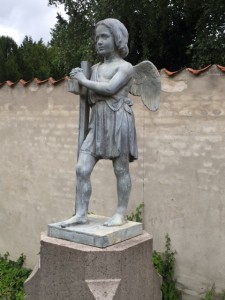 Our next stop was Germany. I took a day off from the land excursion to Berlin. It involved a twelve-hour trip that started at 6:30 in the a.m. Instead, on the next day, I left my travel companions behind to tour Gdansk, Poland so I could go to the Stutthof Concentration Camp. As I have difficulty reading books about the Holocaust, I knew visiting Stutthof would be a sobering experience. The visual impact of the gas chambers, living conditions, and pile of prisoner shoes left behind was beyond atrocious. I'm not sure a word exists to explain the feeling and hence am not including photos other than the entrance sign.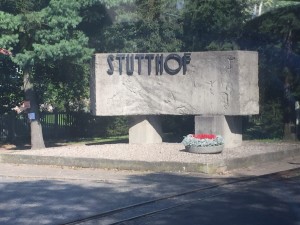 Our next stop was Tallinn, Estonia. This young democratic country is charming, warm and welcoming–even in the rain. We spent most of our brief visit in the Old Town district. This is one place where we would have enjoyed a longer stop for exploring. A seagull decided to photo bomb my shot looking out over the city.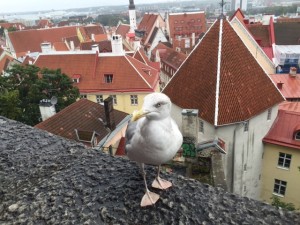 St. Petersburg, Russia was impressive and oppressive. Pickpocketing is rampant and police presence is not visible though you feel like you're being watched at all times. Without a visa, tourists must be accompanied by a tour guide. The shots below are of the interior and the exterior of The Church of Spilled Blood which is a museum and not a functioning church.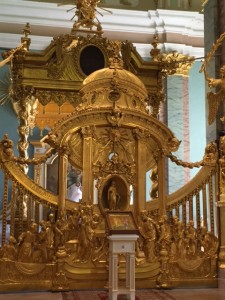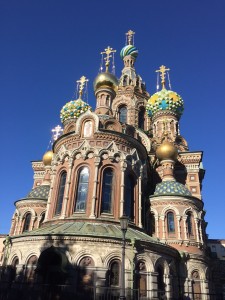 After many days of bus and walking tours, by the time we reached Helsinki, Finland, we were ready for a bike tour. I managed the ten miles fine except when it got hilly and had to jump off and walk with the other old ladies. Really, I did it so they wouldn't feel bad… Below is a shot of a cool sculpture by Finnish sculptor Eila Hiltunen. It resembles a soundwave made of clusters of over 600 steel organ pipes unevenly grouped together and reaches over 27 feet in the air.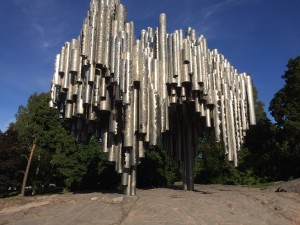 Our last city was Stockholm, Sweden, a city of many islands (and bridges). We got a tip to tour the public library which was very impressive. Another tip was to see a Viking ship at the Vasa Museum. Sounds dull? We were all overwhelmed. This museum is dedicated to a Viking ship that sunk hours after its maiden voyage in the 1600's. It was located and salvaged in 1961. For the next thirty years, restoration workers brought it back to life and built a museum around it. My photos cannot give the Vasa ship justice. The one below is from Pinterest. (www.pinterest.com/pin/552253973026365499/)


We scored some inexpensive tickets to the opera, "Marriage of Figaro." Let's just say that although the music was impressive, listening to Italian and reading Swedish subtitles was extremely difficult. To make matters worse, Mozart's comedy was redone in a modern rendition that strayed too far from the original to follow. We left at intermission. Below is a close up of some of the artwork in the Royal Swedish Opera.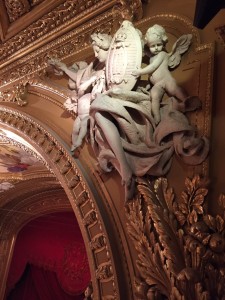 I leave you with a hilarious photo. I found out it is a company which allows you to deliver a complaint to any organization in the world and notifies you if you get an answer.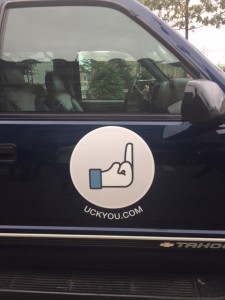 I took hundreds of photos during this trip. If anyone would like to see more on a particular city or landmark, please let me know.