Earlier this week, I walked through the morning fog towards my bird feeders.  Perched on a nearby fence were four beautiful doves patiently waiting for the feeders to be filled.  I approached them very slowly.  When I got too close, they scattered to safer viewing points.
A lovely Christmas thought crossed my mind.  I knew there were four "something" birds in the Twelve Days of Christmas.  So I looked it up.
On the fourth day of Christmas, my true love sent to me
Four calling birds,
Three French hens,
Two turtle doves,
And a partridge in a pear tree.
Well, I didn't have four calling birds.  And what exactly is a calling bird?  I found out from a great bird website called 10000birds.com.  The word "calling" morphed from the word "colly" which means black as coal or black birds.  (It is disputed whether the Twelve Days of Christmas is of English or French origin).
Well, I did have turtle doves.  They were waiting for me again the next morning, and I was able to snap a photo of three of them before they flew away. Click on the photo to enlarge it.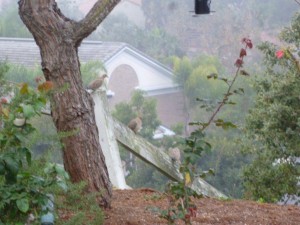 So I guess my empty nest is not so empty after all.  It is filled with doves, finches, sparrows and an occasional blue jay.
Speaking of the French, do you know where the word denim originated?  I was watching a Rick Steves' program on Provence and learned that the word denim is a contraction of "de Nimes" or "from Nimes." Nimes is city in southern France that made the fabric prior to the seventeenth century.  The Levi Strauss website has an interesting article about it if you are interested.