My daughter has been working for The Wilderness Society and knows I am always looking for great nature photos of roads for my blog. She found this gorgeous one of Babbitt Road for me. (Click on photo to enlarge.)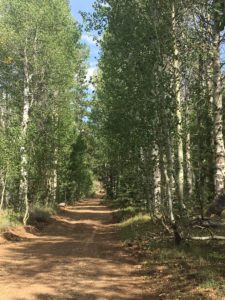 The location for this shot is Tahoe National Forest which is located in the Eastern Sierra Nevada (California). The dirt road is flanked by aspens and leads to Babbitt Peak Fire Lookout. The lookout was built in 1937 and is staffed during fire season. The elevation at the peak is over 8,000 feet.

If you come across a beautiful road in nature and would like to share it on valsroad, please send it along through the Contact button at the top of my front page.