Recently I was in Charleston for a girl's get away. I am happy to report that Charleston is a charming city especially if you are fond of historic homes, places of worship (about 400), and great restaurants. Of course there are other cool things like Fort Sumter, plantations, and parks.


I can never get enough shots of cool graveyards. On this trip I learned the difference between a graveyard and a cemetery. A graveyard is attached to a church and a cemetery isn't.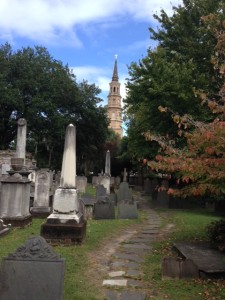 Charleston also has lots of beautiful wrought ironwork. I tried my hand at framing the graveyard through the fence.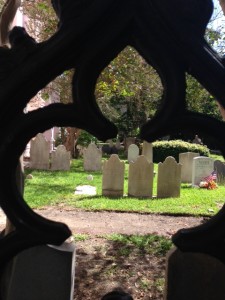 Getting back to the food, there was one southern dish I was anxious to try–grits. My only experience with grits prior to this visit was in the story
The Secret Life of Bees.
There is a painful scene when a hateful father makes his daughter kneel on grits as a punishment. Shrimp and grits were on almost every menu. The first time I tried it I was hooked. So hooked I bought a two pound bag to bring home.
More on the food–can you say butter? Although Paula Deen is out of the limelight, I thought of her often because butter drenched most every meal I ate. I couldn't wait to eat a crunchy crispy salad when I got home.
When you spend five days with friends, no matter how well you think you know them, you will learn something new. One revealed she liked the way hotel linens smell. When I got home, I opened my linen cabinet. Clean sheets do smell great. The other likes buckwheat pillows. Yes, there is such a thing – kind of like a bean bag pillow.
Not only did I learn new things about my friends, but I also discovered something about myself. My friends pointed out that I say holy mackerel a lot.
I do
. It may because I'm trying to cut back on swearing. But why holy mackerel and where did that fishy phrase come from? Well there is a sacred cod in the State House in Boston, but that is a bit of a stretch. Another possibility is that the phrase stuck around long after the time when Catholic immigrants were mocked because they ate fish instead of meat on Fridays.
A final thought about friendship. When you've known friends for over 25 years you can get away with a lot. In particular, starting a story with "I can't remember when I remembered this…" Oh, they will laugh, but they will still love you.