How could these three words fit together in one story? Well, spend 24 hours in Berkeley and they fit quite well. I went to visit my daughter at Cal, and we had quite a day.

Crime
One of my favorite restaurants in Berkeley is Chez Panisse. We had lunch reservations. A drawback about going to a famous restaurant is having high expectations. Our lunch didn't meet them. My daughter's pasta was just ok and my fish was too salty. However, that wasn't the crime. To compensate for the average meal, we decided to swipe a water glass. The water glasses at Chez Panisse have their logo on them and make a nice souvenir. (See photo below). I slid the glass in my purse and off we went. A few feet down the sidewalk we heard someone calling behind us. "Miss, Miss, excuse me." My daughter and I looked at each other in horror, we'd been caught. "Miss, you left your scarf behind." I mumbled some thank you's and resolved, no more stealing from restaurants.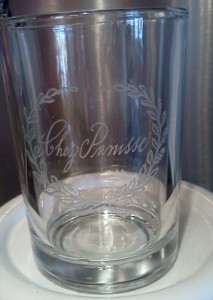 Nature
After the heist, we went on a beautiful nature walk near campus. My daughter is taking a botanical class and during the walk, pointed out lots of interesting facts about redwoods and other trees. I snapped a few shots as the photos show more than I can tell.



Nakedness
Back at the hotel, we decided a little pampering was in order. We changed into bathing suits and headed to use their Jacuzzi, steam room and sauna.
We started in the sauna. An older, saggy everything woman was applying lotion all over her naked body. In that confined space there was a lot of ick factor. Honey, could you wrap a towel around yourself and just put that lotion on your arms and legs. To quote a book I'm reading now, we were "Gone Girls."
Hoping for better luck in the steam room, we found another naked lady (of course). This "plump and proud of it" woman was on her back with her legs propped up the side of the wall. Not liking that view either. Repeat "Gone Girls."
Our last stop was the Jacuzzi. We sank in our own little corner where we avoided floating boobs and other sights. Not quite the pampering adventure we imagined.
Is it Naked or Nude?
I am never sure which adjective to use and got a little clarification in this quote by Kenneth MacKenzie Clark, Baron of Saltwood.*
To be naked is to be deprived of our clothes, and the word implies some of the embarrassment most of us feel in that condition. The word "nude," on the other hand, carries, in educated usage, no uncomfortable overtone. The vague image it projects into the mind is not of a huddled and defenseless body, but of a balanced, prosperous, and confident body: the body re-formed. In fact, the word was forced into our vocabulary by critics of the early eighteenth century to persuade artless islanders that, in countries where painting and sculpture were practiced and valued as they should be, the naked human body was the central subject of art.
So where I use the word "naked," Berkeley ladies would use the word "nude."
*1903-83, English art historian – Another quote of his that I find amusing is:
Opera, next to Gothic architecture, is one of the strangest inventions of Western man. It could not have been foreseen by any logical process.