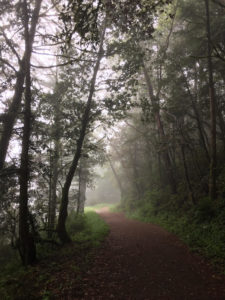 Welcome to val's road. I started this site in 2011 and have enjoyed sharing with you over the years. If this is your first visit, and you like what you see, please subscribe to my blog. I only update about twice a month. If you visit and leave with a smile, then I've connected with you. Let me know what you think about val's road at the contact button.
I've got some odd names for my categories, let me explain.
Valium is for word addicts. Come here to pop a few words, quotes or random thoughts. If you have a word you love, let me know, I'll add it here.
TraVal is where I will share my travel stories.
Mish Mosh is a catch place for well, mish mosh. If mish mosh isn't descriptive enough for you, this is a place for random stuff and my lists. 
You Said is where I will share your comments about something on valsroad.
I named this val's road so we can go down it together. Enjoy your walk.
Photo credit: Lindsey Agnew, Purisima Creek Redwoods Open Space Preserve located in the Santa Cruz Mountains, May 2017