The Sights
Summer means time in the garden. I was cleaning out our fountain today–I mean our gigantic bird bath–when I had a close encounter with a hummingbird. After scrubbing out all the green gunk, I started to refill it. In the past I have noticed that hummingbirds are attracted to water hoses. Right on cue, only about two feet from where I stood with the hose, a hummingbird stopped to have a drink and bathe in the fountain. I stood still and enjoyed this scene for about 20 seconds until the hummingbird flew away.

Ah ha, I thought. I'll get my camera and try to capture it again. If only nature photography was that easy. So imagine, if you will, that this charming hummingbird is bathing in the fountain.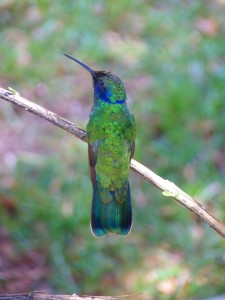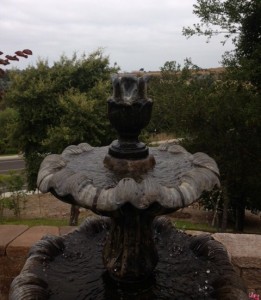 The Sounds
I love the music out this summer. With nothing interesting coming out from my old standbys –PSY and Adele–I found some replacements. My favorites right now are:
"Blurred Lines" by Robin Thicke
"I Love It" by Icona Pop
"Can't Hold Us" by Macklemore (also love "Same Love")
"Just Give Me a Reason" by Pink
"Rosana" by Wax (love the Mariachi band and the racy video is hilarious) click on Rosana to see it Rosana

I was stuck in traffic the other day and a couple of these songs came on right in a row. Nothing like car dancing to pass the time.
Happy Summer!