Welcome to Orlando. It is midnight. My daughter and I have been traveling on a buy one get one free ticket offer from one of my credit cards companies. Let's just say that you get what you pay for (like a four hour layover in San Fran).
The Hard Rock Hotel
We take a short but expensive cab ride to the hotel. The cab driver tries his best to play on our sympathies by telling us we are only his third fare of the day. It is Christmas week. I give him a big tip. We arrive at the Hard Rock around 12:30 a.m. We walk into a very quiet lobby and find out that we are the final guests to arrive. But we arrive happy, still on west coast time and hyped for Harry Potter World.
"We have some good news and some bad news," the front desk clerk announces.
After hearing many stories about mean guests from a nephew who works in the hotel business, we decide we are going to be the nice guests.
"Ok, let us have it," I reply cheerily.
"Tonight's room is being comped by the hotel. But we have had some problems with our guest rooms and we have no rooms left. We are going to shuttle you over to the Doubletree Inn."
I think this is hysterically funny, being Christmas week, and that there is "room at the Inn." My daughter doesn't get it, and later I find a Gideon bible and explain the origin of that phrase.
The clerk and his partner brace for our reaction. I assure them that everything is fine as long as we can come back to the Hard Rock for the rest of our stay. And that is when the giving starts:
1. Coupons for the free breakfast buffet the next day ("Oh make that for 2 days, you are so nice")
2. Hard Rock pins
3. Hard Rock blow up guitars
4. A fruit basket, wine and nuts in our room the next day ("Is it ok to change out the red wine for white? Certainly!")
5. Hard Rock guitar picks and bracelets in our room each night
6. Late check out on our last day
During all this excitement, the night manager comes out to check on the situation. I tell him that his front desk staff are extremely accommodating and have treated us very well. Smiles are in abundance.
The Wizarding World of Harry Potter
As a guest at one of the Universal Studio hotels, you receive two very important benefits. First, you can enter the park one hour before the masses. Second, you can go to the front of the line for most rides with your room key.
At 6:30 a.m., on our chosen date, we walked the 11 minutes (yes, we timed it the night before) to Universal Studios. Lucky for us, my niece who resides in Orlando, accompanied us and was a super tour guide.
Wizard Alert 1
Harry Potter World is not a separate theme park. It is tucked into a corner of the Islands of Adventure Park. Hmmm. You walk past Cat in the Hat land and Poseidon's something to get there. Since you are speed walking with hundreds of other hotel guests, these areas go by in a blur.
The sun is just rising as we approach the gate to a replica of Hogsmeade Village. I have to say, it is quite a magical moment. There is the train to greet you and a waiting area with owls in the rafters.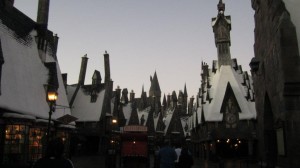 Wizard Alert 2
The shop fronts are fake. Not a good sign for future shopping later. We arrive in time for a short wait to get into Ollivander's Wand Shop (which I can never remember and call Oleander's). A boy is picked and you know the story. But I have to elaborate a bit on this one. The younger brother of the chosen boy cannot stand it. He is so upset his brother got chosen he keeps hopping up and down. This spectacle is almost as distracting as the "chosen" brother who repeatedly grabs at the wands "Mr. Ollivander" is waving around. The father of these two boys is in dire straits. It is all quite amusing if you aren't related to them.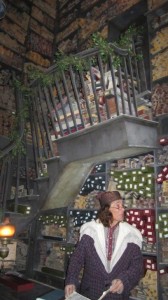 Next stop is the ride through the castle called Forbidden Journey. The entrance to the ride is almost as fun as the ride itself. This is definitely a top notch ride and there is no fast pass, it is wise to plan accordingly.
Wizard Alert 3
Harry Potter World is more like a street. Or as my daughter says, a cul-de-sac. That's right. After you get off the castle ride, boom, end of the world. It is now 8:00 a.m. and we've seen the entire area. We head to get some Butterbeer and look around in the two shops that aren't fake, the candy shop (Honeydukes) and the joke shop (Zonko's). These well-decorated shops are connected, but very small with a disappointing selection.
There are a few more things to see and one place to eat but it doesn't open until lunch. We've managed to get to 10:00 a.m. There are lines for everything now. The masses have been in the park for two hours. We wind our way to the other parts of the Islands of Adventure. They are all are deserted. We walk onto every ride and kill another hour. We decide to take a water taxi back to the Hard Rock for lunch and to enjoy some pool time.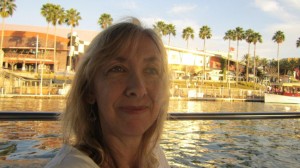 My niece bids us farewell and we decide to try Harry Potter's World again in a night setting. It is still very crowded. We work our way into "Three Broomsticks" for a yummy dinner and decide to try the pumpkin fizz drink. Yuck, stay with Butterbeer.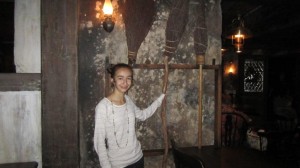 We return to the castle ride and enter as single riders. This cuts 15 minutes off the 45 minute wait. It is still a great ride. My daughter does a couple of the roller coaster rides again (no wait ever) and we go wand shopping. The crowds have thinned down enough that we don't have to wait in line to get into the wand shop.
Missed Opportunity
Good try Universal. You gave us a big tease and left us wanting for much more. Not only could there have been more Harry Potter attractions, but the themed merchandise was very limited. I hear that there is going to be a Harry Potter World in California. I'm hoping they can pack a lot more wow into the new park.
So you are probably wondering, was it worth it? If someone had told me what I've told you, I would have had lower expectations and not have been so disappointed. But this wasn't about me. This was my daughter's gift. She loved every minute of it and that was worth every cent.