This is not rhyme with "aya" day. This is a post about my recent trip to the Yucatan penisula with my family. We had a great time exploring and relaxing. And extra bonus—no one got sick! I thought I'd share some special moments.

Vaya
When I travel in a foreign country, I try to speak their language. I took Spanish in high school and college and have lived half my life in San Diego. I can get by if people don't talk too fast.

On our first day of vacation, we rented a car offsite from the airport in Cancun. This car had over 150,000 miles on it. For the well being of my family, I sat in the back seat. The first Spanish words I prayed on this trip were vaya con Dios (go with God). This was my mantra during each road trip we took.

Maya
After a short visit in Cancun, we drove to Chichen Itza to see the pyramid built by the Mayans. We stayed at the Hotel Mayaland which is located walking distance from the pyramid. We hired a guide and toured the archeological site for a couple of hours. Below is a photo of my husband and daughter climbing down the pyramid. You may need to click on the photo to enlarge it enough to see them. I volunteered to stay at ground level and be the photographer. Let's just say I heard enough about human sacrifices that day.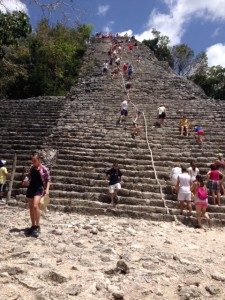 In addition to learning about the Mayan civilization from the past, we also learned about present-day Mayan hospitality. The staff at Hotel Mayaland really impressed me. Because the resort is small, you get to know the staff quite well. One waiter, Rojerio, seemed to be fond of me. He asked my husband if he was a jealous man. When he said no, Rojerio handed me a marriage proposal which he wrote phonetically in Mayan (see below). It could say your wife looks like an iguana, but I'll never know!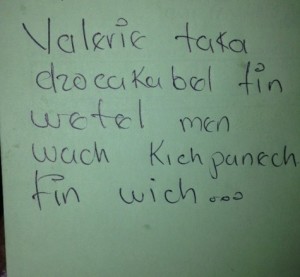 On our last meal, he presented me with a rose he crafted from tin foil. We captured that moment on film too.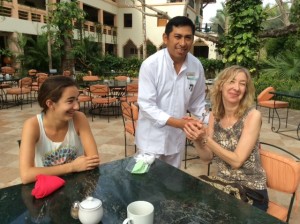 When we left Chichen Itza, we headed to Coba to see another pyramid. My husband had a great idea to rent bicycles to move quickly around the park. The last time I road a bike was about 15 years ago. I rode this one like Wilma Flintstone using my feet to slow me down. This may be the only photograph of me on a bike in circulation.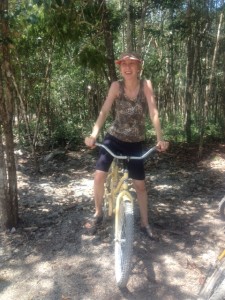 Playa
Our last three days were spent at the Sandos Caracol Eco Resort in Playa del Carman. This was my first experience with an all inclusive resort. The upside of all inclusive is that you don't worry about paying for anything. The downside is that you eat and drink everything. We picked this resort because it had a beautiful location, it was an eco park, and it offered opportunities to see wildlife. In addition to the more common parrots, peacocks, turtles, and iguanas, we got to see coatis and a spider monkey. My daughter is the photographer of the coati and spider monkey below.