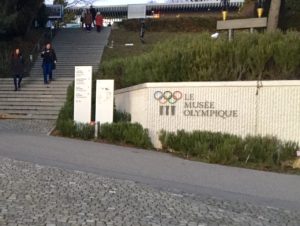 In December 2017, I visited the Olympic Museum (Le Musee Olympique) in Lausanne, Switzerland. This is an exciting museum not only for the vast historical records and interactive displays, but also for the numerous works of art including sculptures by Rodin, Niki de Saint Phalle, and pictured below, Jean Michel Folon's Rain (Pluie).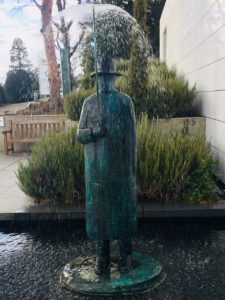 As delightful as the sculptures were, something far more subtle caught my eye. Words. I stopped to read a quote by Wilma Rudolph. I knew nothing about her, but her words intrigued me to find out more.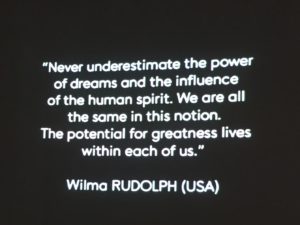 In 1960 Rome Olympics, Wilma Rudolph became the first American woman to win three gold medals in track and field at a single Olympics. Her speed turned her into an international star. Her nicknames were The Tornado, La Perle Noire (French for The Black Pearl), and La Gazzella Negra (Italian for The Black Gazelle).

Although that alone is enough to make her an Olympic hero, the story behind her achievements is more astounding. Born in Tennessee in 1940, she was the 20th child of 22 children. (Her father, Ed, married twice.) As a child, she overcame seemingly impossible odds by beating double pneumonia, scarlet fever, and polio. The polio, however, did leave her with a brace on her left leg. I love this quote:

"My doctor told me I would never walk again. My mother told me I would. I believed my mother."

It is hard to imagine the determination it took for her to become an Olympic gold medalist. Ms. Rudolph not only elevated women's track to a major presence in the US, she also was known as a pioneer in civil rights and women's rights.

After her Olympic performance, she returned home to Tennessee where the Governor planned a welcome-home celebration. The celebration would be segregated, and Ms. Rudolph refused to attend. Due to her protest, the parade and banquet were the first integrated events in her hometown. She went on to participate in protests in the city until the segregation laws were struck down. Later in life, she formed the Wilma Rudolph Foundation to promote amateur athletics. She died in 1994, following a battle with brain cancer.

For more information on this wonderful woman, you can read her autobiography entitled "Wilma" or watch the movie based on the book with the same name.

There are so many cool women in history. And that is why I love visiting museums.